⬅️ Back To Previous Project List
Electronic Commerce and Internet Society Research Center 2014-2017 Biannual Project Plan
The ECIS project will be based on the current research team in E-commerce and Internet Society to further strengthen our research. Due to the rapid proliferation of social media (e.g., Facebook), mobile commerce (e.g., smartphones & tablets), wearable technology have been rapidly developing. The popularity of cloud computing and the need for big data analysis have also grown speedily in the past few years. The focus of our 2014-2017 plans will not only be emphasizing on our past successful studies, but also on two new themes: 1.) Innovation and management of E-commerce and Internet Society, 2.) Platform development and social influence in e-commerce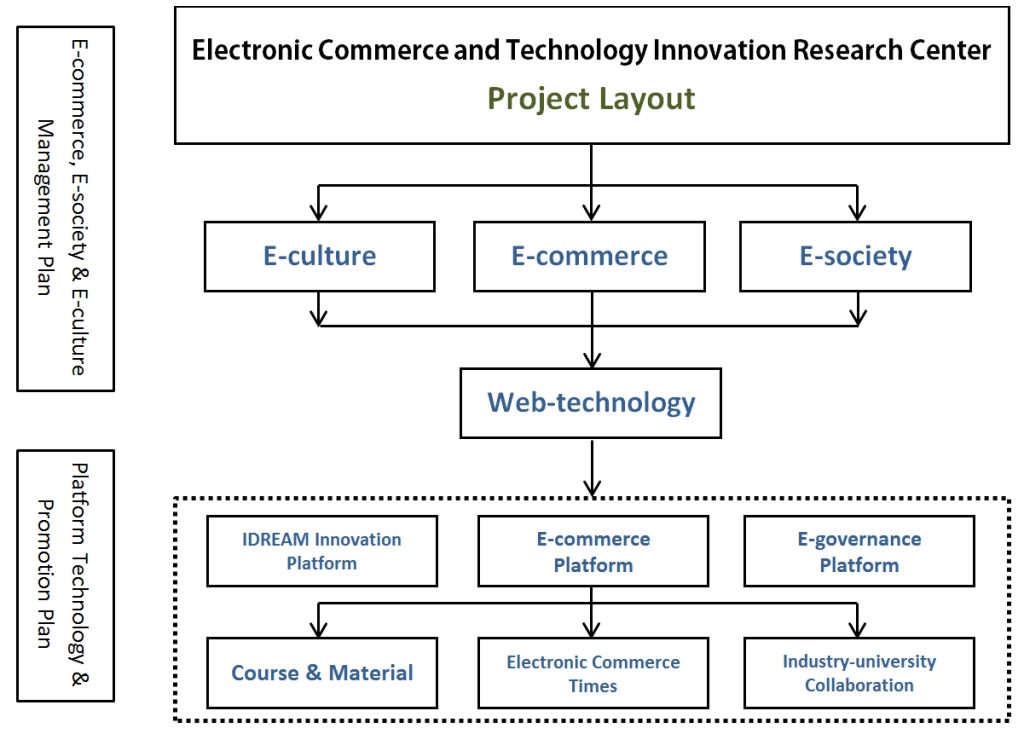 Subproject 1: Innovation and management in E-commerce and Internet Society
E-commerce covers the use of information and communication technologies (ICT) in commercial transactions on the Internet. E-commerce related research is very broad; the recent trend of E-commerce has evolved from the Internet to social media (e.g., Facebook), mobile commerce (e.g., mobile advertising and shopping) and SoLoMo (social-Local-Mobile) which is driven by wearable devices are all trends to the future of e-commerce. Hence, this project will emphasis more on the research of issues related to Social commerce and Mobile commerce, which follows the future trends. Research topics include management of social commerce, management of mobile commerce, Internet marketing and innovative models, E-government and E-governance and the Internet and social change.
Subproject 2: Platform development and social influence in e-commerce
Cloud computing and rapid acquisition of large amounts of data from customers and web sites are two most significant directions in recent years. How to extract useful information from big data (large amount of data cumulated from the Internet) has recently been a very important ingredient which helps making decisions in business circle. Furthermore, it is closely relevant to the research on networking society/culture and on the development of digital platforms. This subproject will focus on two major research foci related to cloud computing and big data analysis. One is concerned about developing analyzing methodologies, and the other is about developing techniques for enhancing system capabilities. Research topics include Development of Analyzing Methodologies, Constructing System Capacity and EC-platform Construction and maintenance.